Skip Navigation
Website Accessibility
Beginner Binding Class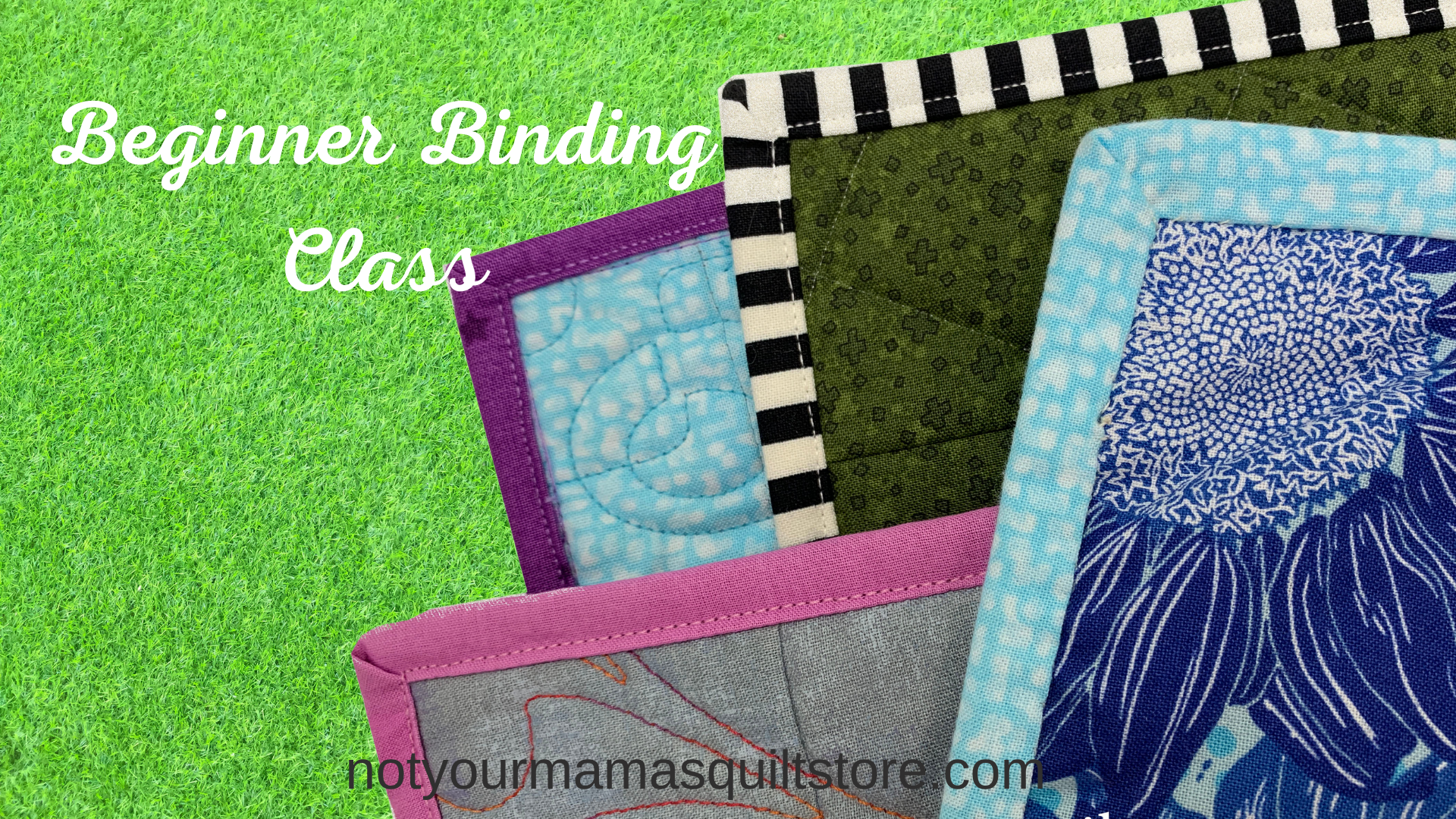 This is a newbie, basic, 101, binding class. If you've NEVER put a binding on your quilt then this is the class for you!

Learn to:

Measure quilt for binding
Determine the width of binding and how much fabric to purchase
How to cut, prep and attach the binding
How to connect the two loose ends of the binding
Finish binding by hand and by machine

Class Prep Homework:

1/4 yd fabric, with a print (not a solid fabric) This is a practice piece so it doesn't have to be pretty
-Iron fabric to release creases
-Cut 3 strips, 2 1/4" x Width of Fabric (44", WOF)


Supply List

Basic Binding Tool This is available in our store and it's a specific brand

Hand sewing needle and thread

Basic Sewing Supplies, see it here
Walking foot for your sewing machine and/or 1/4" seam presser foot.


Download class information here.
Requirements:
Cancellation Policy: Thank you for signing up for a class at Not Your Mama's Quilt Store. Due to the high number of late-notice cancellations, our cancellation policy has been updated: In the case that you are unable to attend the class, you must cancel at least 5 days prior to class date for a FULL refund*. If you cancel 4 days prior to class, there is a 50% forfeiture fee deducted from your class fee. You may choose to transfer to another class if available, with a $20 transfer fee plus additional registration fee if applicable. If you cancel 3 days or less prior to class, your class fee is 100% forfeited. Transfer to another class is not available with less than a 3 day cancellation. *If you paid for a class via PayPal or Credit Card and later need to cancel, a 10% cancellation fee will be deducted to cover service fees charged by PayPal and the credit card processing company. Thank you for your understanding.
Instructor Name:
Ginny Miller
Instructor Bio:
Ginny Miller
Beginner Binding Class
Cost:
$ 40.00
Includes pre-quilted fabric block